Dumpling's Red-headed Daughters: Dracophilus Group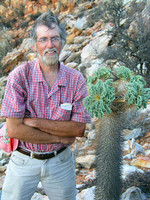 Born in Indianapolis, Indiana in 1951, Steven Hammer is the third son of a musician and a designer/architect. The family immigrated to Los Angeles when Steven was a few weeks old. His earliest memories involve plants: a scarlet canna thriving in deep shade, the wonderfully rapid growth of a summer squash, and the big cornfield across the street. (In the early 1950s the San Fernando Valley was still semi-rural and had extensive walnut and orange groves.)
When Steven was 12 years old his father took him to Johnson's Cactus Gardens in Paramount, California, where he was absolutely galvanized by lithops and shocked by cigarette smoke. Harry Johnson sold him a few plants along with a copy of Walther Haage's Cacti and Succulents, A Practical Handbook. Soon he had an ambitious collection of mammillarias, lithops, and conophytums, though mesemb sources were quite limited in those days. He often visited the Huntington Botanical Gardens in San Marino, then curated by Myron Kimnach, who later became a good friend and an important career influence.
Meanwhile, his early interest in piano playing, for which he had almost enough talent but no public zeal, also increased. Private piano studies climaxed, if that is the word, in a Bachelor of Arts from University of California at Santa Cruz in 1973, where he accompanied Kent Nagano, then in his tenorial, pre-Messiaenic days, and the excellent violinist Lisa Suits-Weiss, who later worked with another Stephen Hammer, the baroque oboist. After graduation he studied with Goodwin Sammel, a disciple of Claudio Arrau, thus becoming one of Liszt's 10,000 great-great-great grand pupils. He also tended anemones and soup kettles at the University's biodynamic garden. Miraculously, the oft-twinned arts of Venus and Bacchus left him untouched.
But we digress. In 1977 he sowed every Cole-numbered lithops under the sun and soon got a job as a cactus and succulent propagator for a wholesale nursery. In 1980, along with Steve Brack, Harry Hall invited Hammer to South Africa for a month-long field trip. Brack and Hammer returned to South Africa in 1982 to spend a month with Conophytum expert Anthony Mitchell. In 1985, encouraged by Seymour Linden and by grants from Huntington and CSSA, Hammer joined a Namaqualand trip organized by Bryan Makin and Keith Grantham, which got extended to full-term pregnancy by a surprise offer of a nine-month internship at the Karoo Garden in Worcester. There he made herbarium specimens and studied the extensive Conophytum, Lithops, and Haworthia collections. He often took the train to Cape Town to visit the extensive botanical mortuary at the Bolus Herbarium.
During his unplanned pregnancy he traveled with Ernst van Jaarsveld, Bruce Bayer, Pauline Perry, Norbert Juergens, and Steve Brack, who subsequently employed him as a Mesa Gardener for the next ten years. Later trips (often two per year, rain or shine, in 1987, '88, '89, '90, '91, '92, '93, '95, '96, '97, '98, '99, '2001, '03, '07) involved Peter Bruyns, Kotie Retief, Heidi Hartmann, Terry and Jennifer Smale, Gerhard Marx, Sigrid Liede, Niko Sauer, Jan Vlok, Emile Heunis, Derek Tribble, Jossie Brand, Hermius Kennedy, Chris Barnhill, Irma Burger, Graham and Francoise Williamson, Pete Arthurs, Russell Wagner, Phil Desmet, Nick Helme, and Adam Harrower.
Hammer has discovered a number of interesting taxa and many dullards too, not all them in Aizoaceae: for example, Conophytum achabense (the smallest mesemb), C. hammeri, C. hyracis, Lithops hermetica, Vlokia obesa, Tylecodon cordiformis, Avonia mallei, and that wonderfully homely shrublet, Hammeria gracilis. He has described ca. 45 taxa, including the genera Hartmanthus and Vlokia.
Publications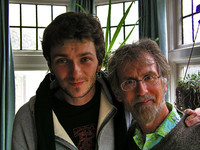 Steven's publication list would be extensive, if he could find it. He is a regular contributor to the Mesemb Study Group Bulletin, and Cactus and Succulent Journal (US), Haseltonia (Yearbook of the Cactus and Succulent Society of America), The South African Journal of Botany, Aloe (Succulent Society of South Africa), Bradleya (Yearbook of the British Cactus and Succulent Society), Plant Systematics and Evolution, Kakteen und andere Sukkulenten (German Cactus and Succulent Society), Piante Grasse, and other periodicals.
Steven is also the author of two monographs: Conophytum: A Conograph (Umdaus Press, 1993), Dumpling and his Wife: New Views on the Genus Conophytum (EAE, 2004). His Lithops, Treasures of the Veld (British Cactus and Succulent Society, 2000), has been published in Russian and French editions, at least. He was also a consultant for Mesembs of the World.
Awards and Honors
Fellow, Cactus and Succulent Society of America, 1996, research grants from CSSA (many) MSG (many), the National Geographic Society, Kirstenbosch Botanical Gardens, the Huntington, Kew Gardens, and the Bolus Herbarium, of which he is an honorary fellow. He sat directly in front of Jane Wyman at a Los Angeles Philharmonic concert in 1968, and enjoyed equal proximity to Shirley MacLaine and Doogie Howser, MD in the air in 1991. He heard Ms June Libida being paged at the Albuquerque airport in May 1992, but was unable, alas, to follow up on this clear hint from Flora.