Mesembs: The Titanopsis Group
Mesembs: The Titanopsis Group now shipping!
This full-color hardback is the first book to explore the 34 species and nine genera of the Titanopsis Group in detail. Quarter bound, 208 pages, luxury French-fold dust jacket,  printed end papers... the book lives up to our promise of providing photographs of every species in flower (plus most in habitat as well), beautiful new seed capsule illustrations, custom distribution maps, and specially comissioned watercolors. The text, by the succulent plant–world's best-loved author, is as engaging and erudite as the plants are beautiful and surprising. From history to field exploration, horticulture and hybridization, thirty years of Hammer's mesemb passion are finally being recorded!
Prints, Cards & Gifts
Greeting Cards
Botanical Greeting Cards from Mesembs, The Titanopsis Group
These 5 × 7″ greeting cards feature every chapter-opening illustration from The Titanopsis Group. Master illustrators Janet Snyman and Gerhard Marx depict Aloinopsis, Titanopsis, Nananthus, Deilante, etc in watercolor and pencil. Beautiful glicée reproductions on matte recycled paper. Great holiday cards! Nine designs with matching envelopes.
View card designs by clicking below
Postcards
Seed Capsule Postcards from Mesembs, The Titanopsis Group
Twelve fanciful postcards inspired by, and featuring, mesemb seed capsule illustrations by Janet Snyman and macro stills by Russell Wagner, as featured in The Titanopsis Group. Stylish reverse in six languages: English, Afrikaans, Czech, French, Spanish, & German. Keep in touch the old fashioned way! 4 × 6″ on 14pt cardstock, set of twelve. $12, two for $20.
View card designs by clicking below
Wood Engravings
Limited signed edition of The Titanopsis Group jacket illustrations by Abigail Rorer
Abigail Rorer is a succulent lover. She's also a book artist. Her medium: wood engraving, a painstaking process that in her hands yields unbelievable results. We approached her to execute wood engravings for the cover of our first book and were surprised by her enthusiasm and generosity. She has agreed to produce new illustrations for each book in the series.
For our first outing, Abbie produced an incredibly textured and dimensional portrait of Titanopsis hugo-schlecterifor the front cover, it's seed capsule—cleverly depicting its transparent membranes—for the back cover, and a touching author portrait for the back flap.
Original prints were produced in several series. Separately numbered editions were printed for our Founder's and Collector's bindings, but Abbie also agreed to produce a signed and numbered series of prints for us to make available separately. We have just twenty sets of a total of forty in the edition, the rest being retained by the artist.
These illustrations are letterpress printed from the original woodblocks on Abbie's own historic Vandercook proofing press. 8.5 × 9.75". Priced individually and as a set.
View enlarged prints by clicking below
Watercolor Reproductions
Watercolor Reproductions from Mesembs, The Titanopsis Group
Our new series on the collectable mesembs is a celebration of art, botany, literature, and fine bookmaking. In keeping with tradition, we commissioned new paintings—one for each of nine genera—from two of South Africa's finest botanical illustrators, Gerhard Marx and Janet Snyman. In order to employ these artists and produce further works in the series, we're forced to part with the originals, but we wanted to make affordable reproductions available to our readers. Here they are!
View enlarged reproductions by clicking below
Our prints are high-quality glicée reproductions using archival inks on Arches 100%-cotton watercolor paper. Trim size is approximately 11 x 15".
IMPORTANT: Please place print orders separately. Prints are mailed in a mailing tube, and therefore shipping costs must be calculated separately.
Bookmark
Silkscreened bookmark from Mesembs, The Titanopsis Group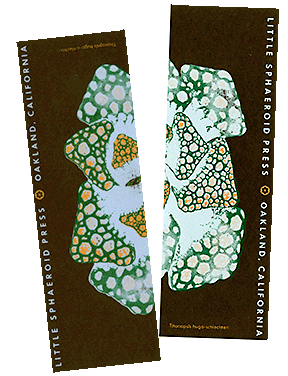 Subscribers to The Titanopsis Group received one of two hand-screened bookmarks designed and executed by Russell Wagner. Conceived as a set, each pair merges to produce a portrait of Titanopsis hugo-schlechteri. Four screens were required to hand print these two-sided bookmarks. Color variants, limited overrun. $7 each, $13 pair.
Read more about the bookmark and check our pictures of how we made it.
Original Artwork
Original watercolors available for purchase
In order to fund the production of the next volume in our Mesembs series, and in order to continue to pay our artists to produce fabulous new paintings to illustrate it, we are making available the original paintings from our first book, Mesembs, The Titanopsis Group.
These watercolors by Gerhard Marx and Janet Snyman are exquisite examples of traditional botanical illustrations. They are also unique manifestations of these artists' distinct styles. Janet's work is smooth, meticulous and somewhat stylized, with rich pencilwork depicting fruit details and rootstocks. Gerhard favors a more naturalistic style that combines impressionisitic vignettes with technically rigorous portrayals.
View paintings by clicking below.
We are accepting serious enquiries on the remaining originals. Sold paintings are marked as such in the gallery. Full-size scans will be emailed upon request. (Please note that in some cases these paintings were digitally rearraged for inclusion in the book. Shown here are the illustrations as they were painted.)